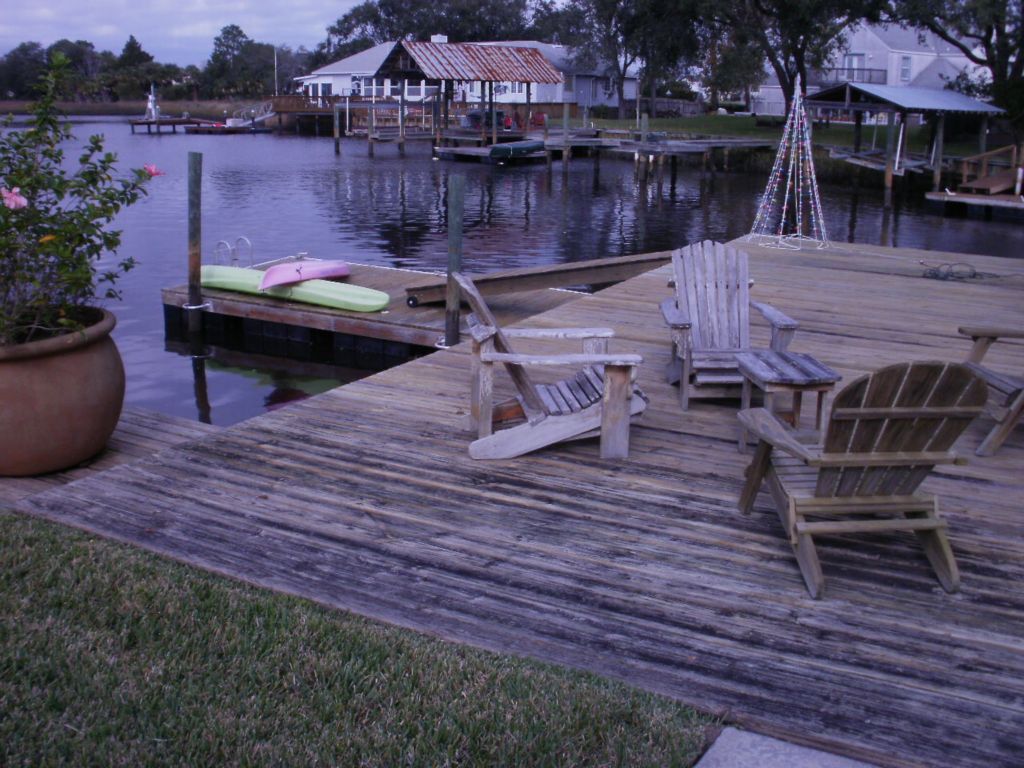 Phone WHP (904) 365-7612
Intercoastal canal dirty old mildewed dock to get pressure cleaned.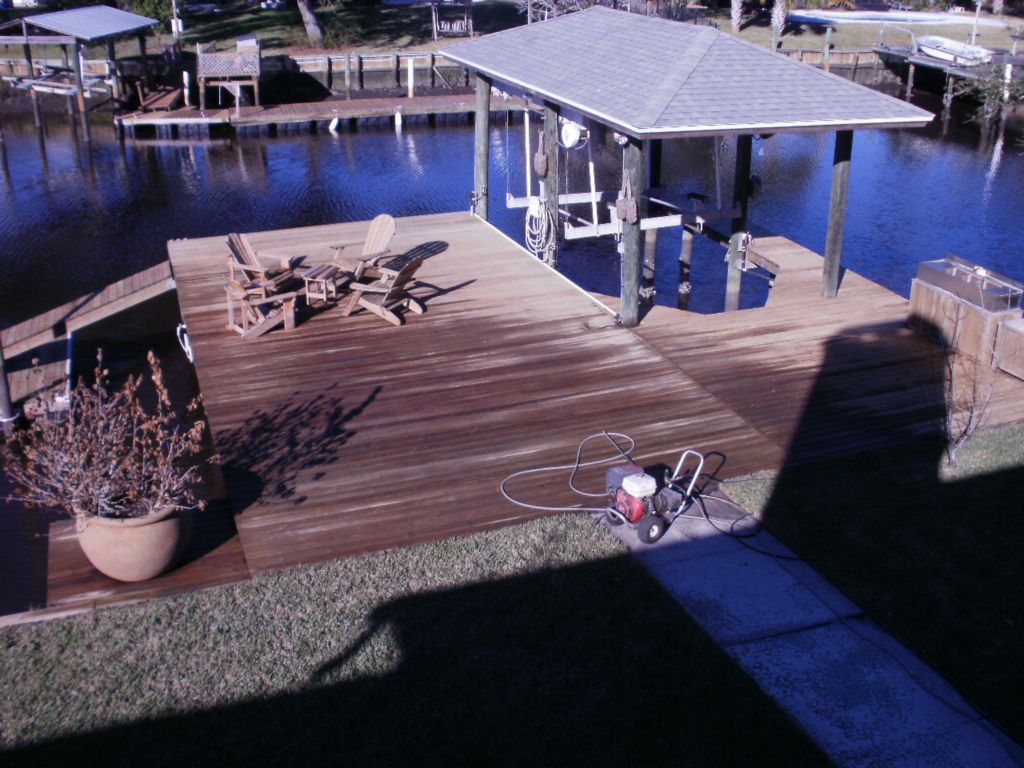 gregster2008@gmail.com
Large pressure cleaning job did the house, sidewalks, driveways, decks, and docks there were several of each. If you regular pressure clean the paint jobs last longer.
From the beginning, I could tell that Greg's work would be top of the line. He came to do the estimate the day after I contacted him. I could tell by talking to him that he took great pride in his work. He prepped the house meticulously with a thorough pressure washing. When he applied the paint, he didn't just spray it on, but also worked it in with a brush. He even made a suggestion about which color to use on the edge trim pieces to give the house a nicer look than it had before. It was a joy to come home the last day and see my finished house after work! I highly recommend using Work Horse painting for your painting needs. A++ job! Shannon L
I contacted Greg (Workhorse Painting) to do a full interior paint all walls, stain all doors and trim, wall paper in a few places. He showed up that same day and gave me great suggestions as to how to fix problem areas. I felt very comfortable with telling him to go ahead and do what ever he had to do to make my home beautiful again. He was very professional and took his time and did a great job. I noticed one thing while talking to Greg, he will not cut corners even if you ask him to. With that I just told him to go for it. I put full trust in Greg and he made me very happy. I was amazed as to how he fixed some problem areas.
I was so happy with his work I refered him to some friends with commercial property and the work he did there was exceptional. A very satisfied customer: Glen Doss
Doss Basement
I've known Greg for more than 30 years and he has been doing painting jobs for me (both my home and a rental property) since 1996. I've lived in this 90+ years old house for the past 30 years and have had only one other painter who even came close to Greg's professionalism and quality of work. Greg has the highest business ethics and produces outstanding work. Whenever he's available he's my painter!
Regards, Bob
Worlds Fastest Painter
I chose Greg for the work on my house not only because he gave the best price but because of his prompt and professional response to my inquiry. Greg's enthusiasm for his work, extensive knowledge and meticulous eye for detail was evident in the excellent five star results!
Linda K.,
Atlantic Beach, Florida
My wife wanted to have the house painted I contacted Work Horse painting on a Saturday. Greg responded on the same day and came out to give us an estimate. Very helpful with all our questions and also had suggestions about what we needed to do. Professional in every way and really detailed in his work to the smallest part. Impressed with his knowledge. I would recommend him to anyone and trust that they would be treated honestly and get the best effort from Workhorse Painting. Excellent work Greg both my wife and I are very pleased with the outcome. Orlando, Jacksonville , FL.
Greg has done five seperate jobs for me. They were all done carefully and promptly. I am impressed by his knowledge of paint chemistry that allows him to select the best product for the job. His work has always been done carefully with no irregular edges or brush marks.
Of the five seperate jobs, I was most pleased by the precise way that he was able to paint our external window surfaces. He was painting aluminum. He knew the best broduct for the job and applied the paint in a painstaking manner. Inspection afterward failed to find irregularities in the application or paint on the glass or surrounding window frames.
He also applied epoxy paint to our garage floor. This was envolved because it required a careful cleansing of the floor. He went to considerable effort to find the best epoxy product to use. I am very pleased with our garage floor.
Another job was to paint a pergola on the attached deck of our house. It was done quite well. Yet another, pressure clean the house bulkheads and walkways.
The most recent project was to paint the interior of our house. The job included painting the entry and hallway, stairway, walls of the living room, dining room and the walls of an upstairs room and hallway. Great job!
I have never before hired a painter who did as good a job as Greg. His rates are most reasonable and he creates minimal disturbance while performing the work.
This testimonial was created by me on the 16th June 2012.
Leonard A. Brennan

Pressure-Wash-House-Oceanwalk-Atl.-Bch.
Window-Frames-Repaint-Oceanwalk-Atl.-Bch.
Garage-Floor-Epoxy-Oceanwalk-Atl.-Bch.
Awaiting Kathe C.'s Testimonial. My customers write them themselves.
Katy-C.'s-consolidated-jobs-of-5-or-more
I hired Greg several times for painting of my personal residence, inside and out. I have an older home with many plaster walls and previous wallpaper in many rooms.
Some of the plaster kitchen walls were very uneven or noticeably wavy. After he removed the old wallpaper, Greg said that he could apply crack resistant mud to the walls and
use a blade to straighten them out. He did so and when he was done the walls look like drywall - very professional.
The walls in my dining room were papered too. It was a real issue at hand to get the walls prepared for painting. Greg suggested a "stucco" pattern - where he would tap
the wall in random pattern with round brush filled with wet mud. I agreed to try it and the resulting job completed was really astonishing - very elaborate and beautiful.
I wouldn't want it any other way. Textured stucco above and smooth painted surface below the chair rail.
Greg also painted my kitchen cabinets inside and out with oil based paint. I believe that they look probably better than new. There was the living room
with 3 different colors I chose. Greg's painting of this was something I've heard many complements about. Many lines and colors coming together flawlessly.
There was other rooms too... 2 bathrooms, stairwell, hallway. All with the same result. Not to mention the great exterior work.
Greg is very thorough and takes his time like it is his own personal residence, and his pricing is very, very reasonable.
Job well done Greg. Tom O. satisfied customer and friend.